What is Type 1 Diabetes?
Edit
(http://www.diabetes.ca/diabetes-and-you/living-with-type-1-diabetes)Type 1 Diabetes is a metabolic disorder where the pancreas does not produce insulin, which is a hormone that regulates the glucose or rather sugar content in your blood. [1]Without insulin the glucose builds up in blood instead of being used as energy. Glucose can enter your body through food, such as bread, milk, and rice, or can be produced from your body. (http://www.diabetesresearch.org/what-is-type-one-diabetes)Type 1 diabetes is a severe disease, also know as "juvenile" because it is most common in developing in children and/or teenagers, though it may develop in any age. The cause of type 1 diabetes is unknown, and not preventable.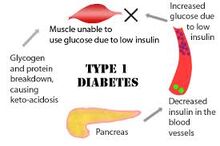 How does Type 1 Diabetes Affect the Immune System?
Edit
The body's immune system is strongly affected by type 1 diabetes, because it accidentally destroys insulin-producing cells in the pancreas. In the most common cases of Type 1 Diabetes, the body's immune system mistakenly destroys the islet, or insulin-producing cells in the pancreas, instead of normally fighting harmful bacteria and viruses. (http://www.mayoclinic.org/diseases-conditions/type-1-diabetes/basics/causes/con-20019573)In a person with Type 1 diabetes the immune system is very weak causing them to be prone to infections and their body takes longer to repair itself. 
Signs and Symptoms
Edit
(http://www.mayoclinic.org/diseases-conditions/type-1-diabetes/basics/symptoms/con-20019573)Signs and symptoms of Type 1 Diabetes can come swiftly. Some signs and symptoms include:
Increased thirst
Frequent urination
Extreme hunger
Unintended weight loss
Irritability and other mood changes
Fatigue and weakness
Blurred vision
Diagnosis
Edit
(http://www.mayoclinic.org/diseases-conditions/type-1-diabetes/basics/tests-diagnosis/con-20019573)In order to diagnose Type 1 Diabetes, the specialized doctor will run a various amount of tests. The first test in which your doctor will ask for is a Glycated hemoglobin (A1C) test. This in particular indicates what your average blood sugar level had been from the 2-3 months prior. An A1C level of 6.5 percent or higher on two separate tests indicate that you have Type 1 diabetes.
If the patient cannot be taken, from certain conditions , your doctor may use different sugar tests to diagnose diabetes. These tests include, Random blood sugar tests and Fasting blood sugar tests. Random blood sugar tests are literally blood samples taken at random times. 200 mg or higher suggests that the patient has diabetes. This is especially evident when signs and symptoms are found as well. Fasting blood sugar tests is a blood sample that is taken after and overnight fast. A fasting blood sugar level of 100 mg is considered average, or normal. 100-125 mg is considered pre-diabetes. If it is 126 mg or higher on two separate tests, the patient has diabetes.
Treatment 
Edit
(http://www.mayoclinic.org/diseases-conditions/type-1-diabetes/basics/treatment/con-20019573)The goal for treating diabetes is to keep your blood sugar level as close to normal as possible. Some treatment in which a type on diabetes patient would include, taking insulin, carbohydrate counting, frequent blood sugar monitoring, eating healthy foods, and exercising regularly and maintaining a healthy weight.
Patients diagnosed with Type 1 Diabetes continue with life-long essential therapy. Types of insulin include, Rapid-acting insulin, Long-acting insulin, and intermediate insulin. Insulin may be administered through injections, and an insulin pump. Other prescribed medication for people with type 1 diabetes include, Pramlintide, high blood pressure medication, aspirin, and cholesterol-lowering drugs. The most important treatment goal is to ultimately monitor the blood sugar levels.
Cite error: <ref> tags exist, but no <references/> tag was found
Ad blocker interference detected!
Wikia is a free-to-use site that makes money from advertising. We have a modified experience for viewers using ad blockers

Wikia is not accessible if you've made further modifications. Remove the custom ad blocker rule(s) and the page will load as expected.